Pregnancy
Green with Envy: Pregnancy and Infertility
Throughout my life, I have never considered myself to be a jealous or covetous person. No matter how grand or sparkly another person's life appears to be, I've rarely felt the need to count or compare their blessings to my own. So, imagine my confusion a few years ago when I found myself having a complete meltdown inside of a bathroom stall during the middle of a holiday party because it felt as if I were the only woman in the room who didn't have a baby or a baby bump.
Being diagnosed with Premature Ovarian Insufficiency (POI) in my teens gave me plenty of years to accept that pregnancy—while not completely unattainable—would require infertility treatments and lots of patience to become a reality for me.  So, having a reaction to THIS magnitude, literally a decade later, felt bizarre. The inundation of emotion that I was experiencing in that stall was not the usual wave of melancholy that would I would feel from time to time, especially when I would spot glowing pregnant women and their perfectly round bellies shopping for maternity clothes at Target. No, THIS type of hysteria, especially about pregnancy, was uncharted territory for me. Although I didn't know it at that time, what took place in that bathroom was the purging of 10 years of silent tears that I had cried since the day that I discovered that I was barren. The flood of emotion that overpowered me that day was pregnancy envy, and the only thing that I could do about it in that moment was to finally acknowledge and release it.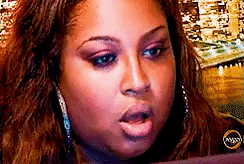 At the time of my meltdown, I was a newlywed. My then-partner and I entered our union knowing that my POI diagnosis would require more than good ol' fashioned sex if we ever decided to conceive. We also knew that any of the alternative routes that we may take to grow our family— In-Vitro Fertilization, adoption, fostering, or surrogacy—would probably require a lot more money than our joint checking account had ever seen.
Call us crazy or insanely hopeful, but even knowing our odds, we still decided to give natural conception a damn good try before we resorted to the other options. Although we were excited to officially be on the "trying to conceive " path, we didn't share our news with our loved ones because we didn't want to be bombarded with questions and unsolicited advice if we weren't successful.  We silently struggled for months as the optimism that we started the process with slowly began to deteriorate. After a year of trying and confirmation from our doctor, we sadly accepted that we couldn't get pregnant on our own. 
As I struggled to pick up the pieces of my broken heart and empty uterus following our failed attempt to naturally conceive, all things related to pregnancy felt inescapable. Everywhere that I turned I was surrounded by babies and baby bumps: at work, on social media, in the grocery store, at the gym, and even in my group chats since so many of my girlfriends we're expecting. The more our refrigerator door became adorned with baby shower invitations and birth announcements, the more dry my "congratulations" became to the women that I should have been joyfully celebrating.
In 2015, pregnancy envy sunk me to my lowest low when one of my best friends shared that she was expecting and wanted me to be the Godmommy. Like the kindred spirits that we are, she didn't have to tell me that she was pregnant— I could sense it, even with us being hundreds of miles apart. As soon as I answered her FaceTime, I heard the mix of excitement and fear in her voice as she asked me to guess the news that she was dying to share. I paused before I spoke; I wanted to make sure that I swallowed the lump that was forming in my throat.
"You're pregnant."
I realized that I didn't sound excited enough, so I tried again.
"OMG, you're pregnant!".
After confirming that my intuition was right, my good sis did what any first-time expectant mother would do when she's talking with her closet confidant—she completely let her guard down and shared that she was unbelievably terrified. After I listened and reassured her that she was going to be an amazing mom (because she truly is the GREATEST), I felt so ashamed to have had those 10 seconds of jealousy that momentarily prevented me from whole-heartedly celebrating such a pivotal and joyous moment in my soul sister's life. Babies and motherhood were things that we talked regularly about over brunch and bottomless mimosas, and it was finally happening, even if only for one of us. That moment made me realize how ugly envy green looked on me and encouraged me to start therapy. It forced me to finally learn how to grieve and process the infertility diagnosis that I had been given as a teenager.  It wasn't until the end of my first therapy session that I realized just how much this invisible burden weighed me down.  Each therapy session peeled backed a new layer—finally, the heaviness that I unknowingly carried for YEARS began to lessen and I began to heal. 
Five years have passed since my infamous meltdown, and let me tell you, motherhood is the furthest thing from my mind these days. I have three beautiful god babies and a host of nieces and nephews that keep me youthful and surrounded by love!  What I have learned most throughout this journey is that envy and jealousy are natural human emotions that we shouldn't be ashamed or embarrassed about when struggling with infertility or loss. While therapy helped me acknowledge and make sense of my emotions surrounding infertility, it was the act of confiding in my tribe about my diagnosis that truly allowed me to experience a deeper level of healing. 
Today, I have a community of sisters (brothers, too!) that I can be vulnerable and transparent with, who pour into and cover me when my infertility woes get the best of me. Many of them have also given me the gift of being an Auntie and Godmommy—titles that I wear so proudly! I feel so honored to be part of their tribe because it truly takes a village.  Now in my thirties, I feel at peace with whatever the future holds. As cliche as it sounds, the weight of envy was lifted from me once I realized that whatever is for me, will be for me—pregnancy and babies included! I have a beautiful and full life, and this is true even if I never choose to have children.  For now, I'm perfectly content with being the Fine Auntie at all the functions.